~ Think in Rhyme ~
My Guinea Pigs
This poem is in honor of Kiera & her guinea pigs.
My guinea pigs are round and soft and furry.
They're just as cute as little pets can be.
I like to watch them run and play and scurry,
and hear them whistle when they look at me.
My guinea pigs make lots of funny noises.
They whistle, purr, they chatter, squeak & squeal.
Each sound means something – so, I try to listen,
to understand just how these creatures feel!
My guinea pigs have teeth that won't stop growing,
and so, they chew on odd things every day.
They gnaw on woodblocks, cardboard tubes and cartons.
That's normal for a guinea pig, folks say!
One of my guinea pigs once had a problem.
At first, I thought that she was being rude.
She turned her little nose up at her chew toys.
She wouldn't eat – forgot about her food.
My guinea pig's long teeth were over-growing.
The vet trimmed them (like we do hair or nails).
He gave suggestions for her care and feeding,
(like give her hay, and check her weight on scales).
It took my guinea pig a little while,
But soon she started feeling pretty good...
The more she chewed, the more she felt like chewing
on snacks, on toys, on cardboard and on wood!
My guinea pigs are smart, but rather clumsy.
They know their way to food – and like to eat!
It's not a lot of fun to clean the cage, though…
I must admit that guinea pigs aren't neat!
My guinea pigs are friendly, cute and social.
When happy, they will jump and squeak or purr.
What fun it is to own such cheery creatures,
little friends that look like balls of fur!

Poem © 2017 by Sarah M. Menkin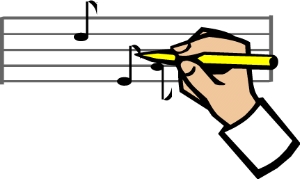 If you would like to receive the Think in Rhyme newsletter by e-mail or by postal mail, please send me a quick note: