~ Think in Rhyme UnBlog~
2/28/21 - Welcome to all who have come to check out Think in Rhyme for the first time or are checking in to see if there is any "news" on the Unblog... just a quick update. Due to medical issues that include recent VP shunt surgery (Sarah), we are pausing printing at this time. Please know that you remain in our prayers as you look around the website and find a few years of Think in Rhyme Newsletters....If you have a reprint question, or any concern, feel free to send an email: thinkinrhyme@gmail.com All the best!
3/24/21 - A Quick Update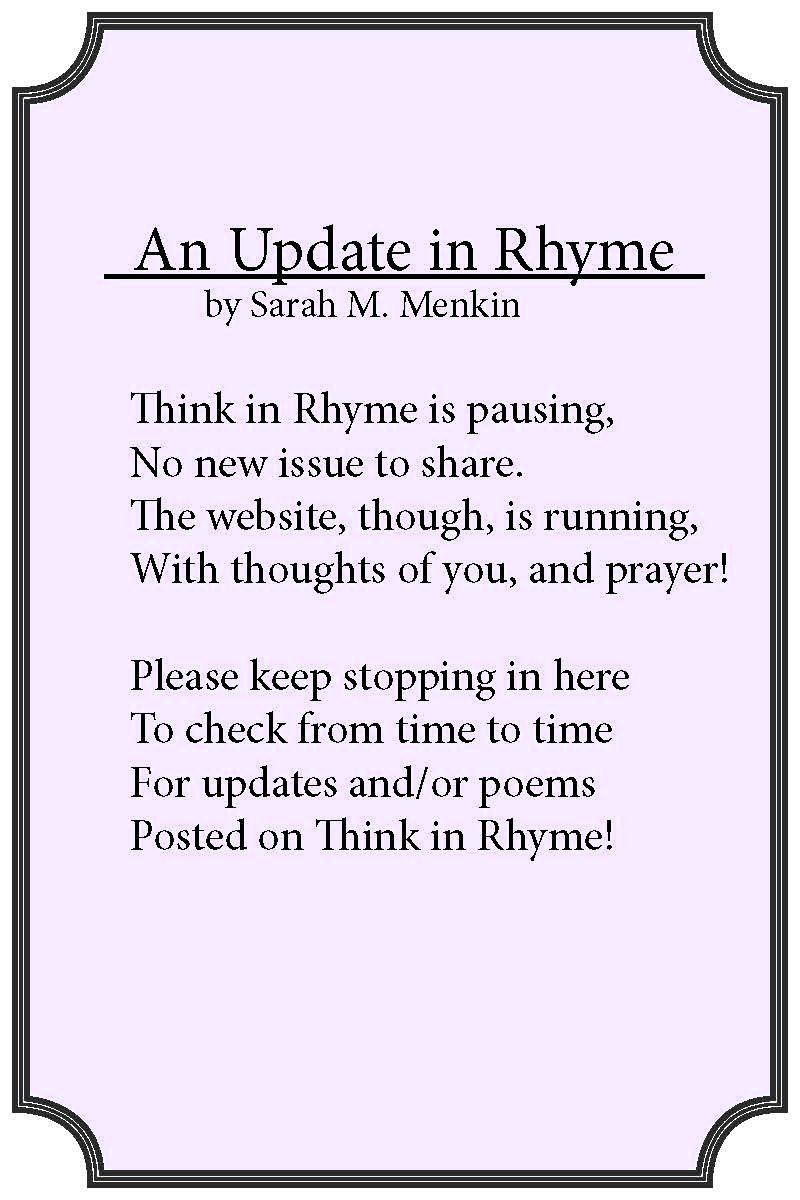 3/21/21 - This poem is in honor of Thomas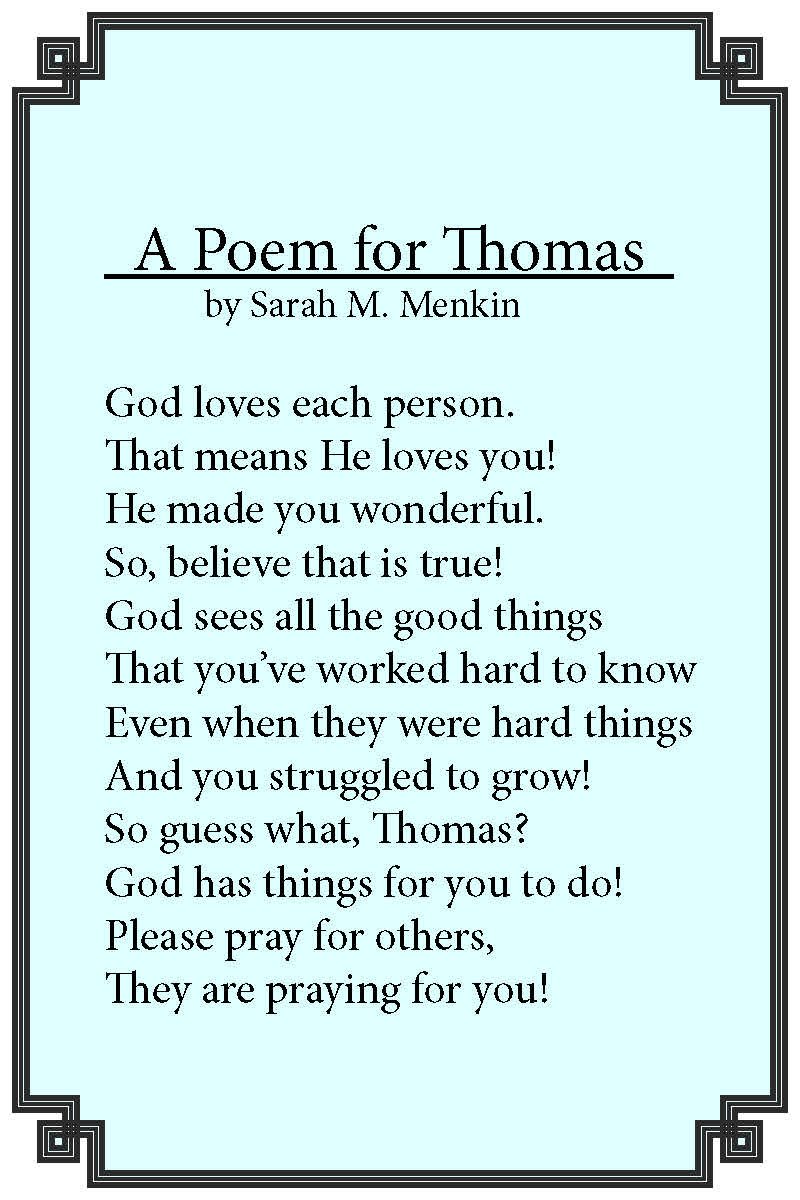 2/4/2021 - This poem is in honor of Natalie - a young girl learning to type at home during the Pandemic... Congratulations, Natalie!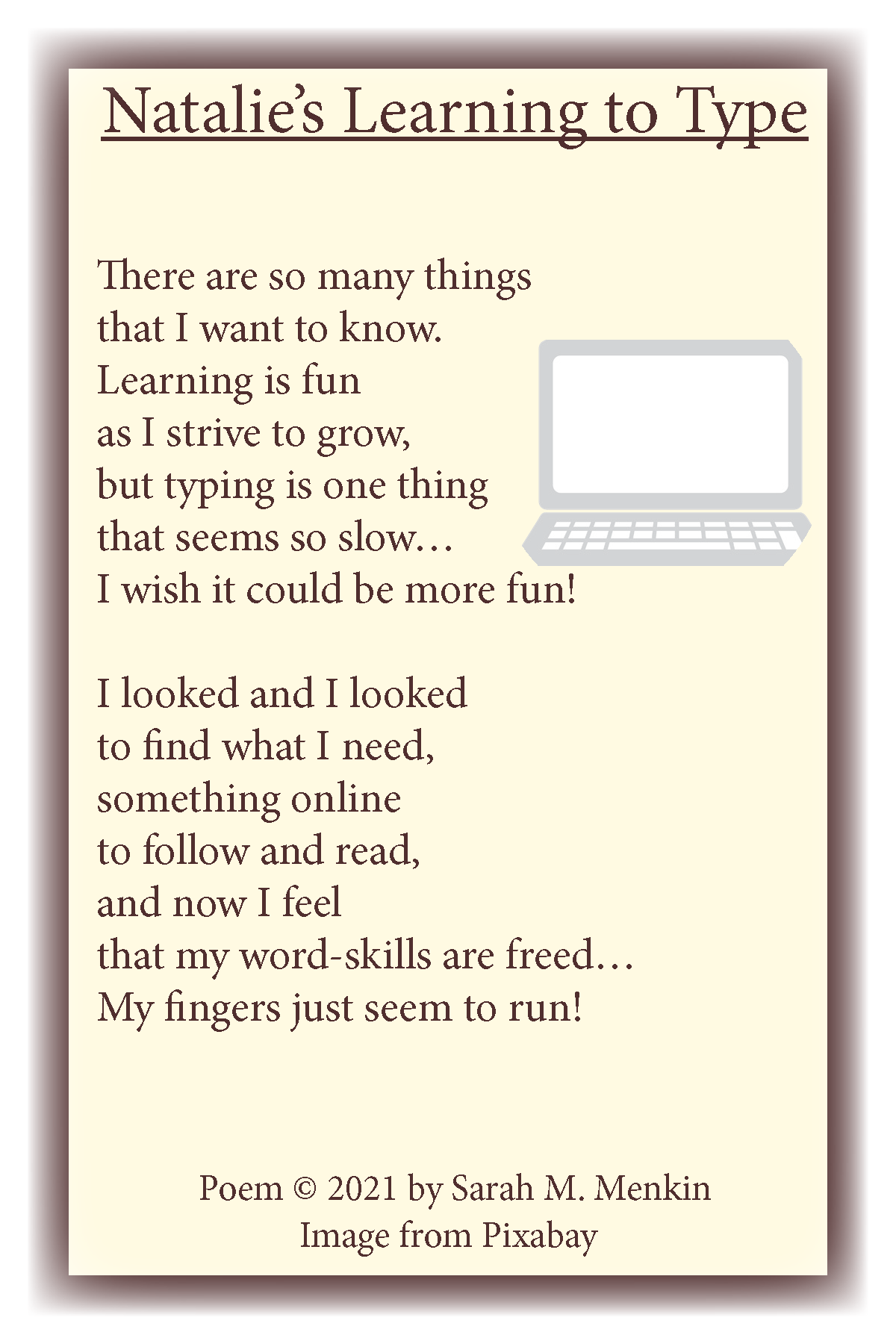 12/10/2020 Happy Chanukah to all who are celebrating...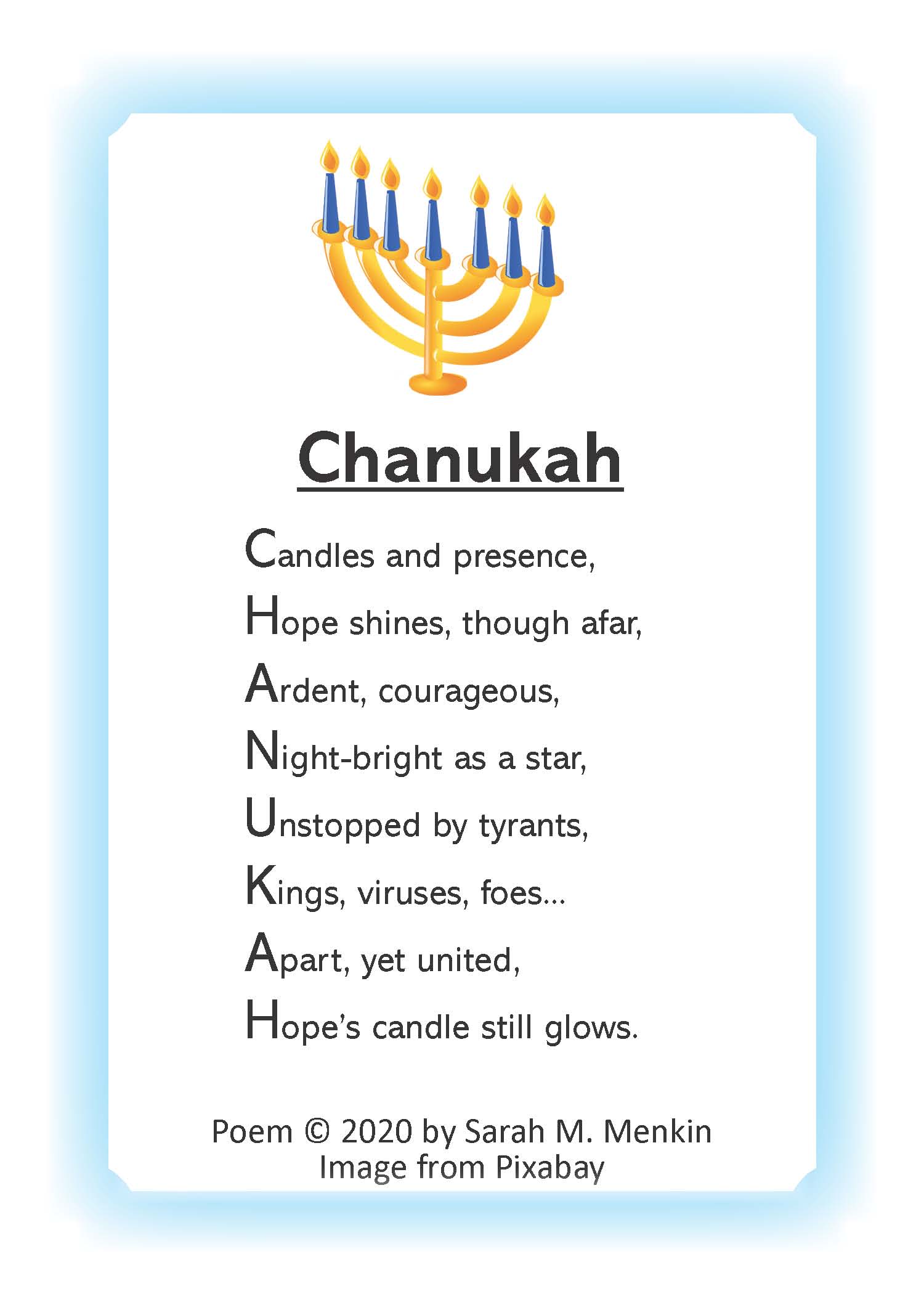 October 17, 2020 -- Can you imagine what it would be like to live in a world where everyone had to Think in Rhyme? ....here is a rerun poem from 2014...enjoy!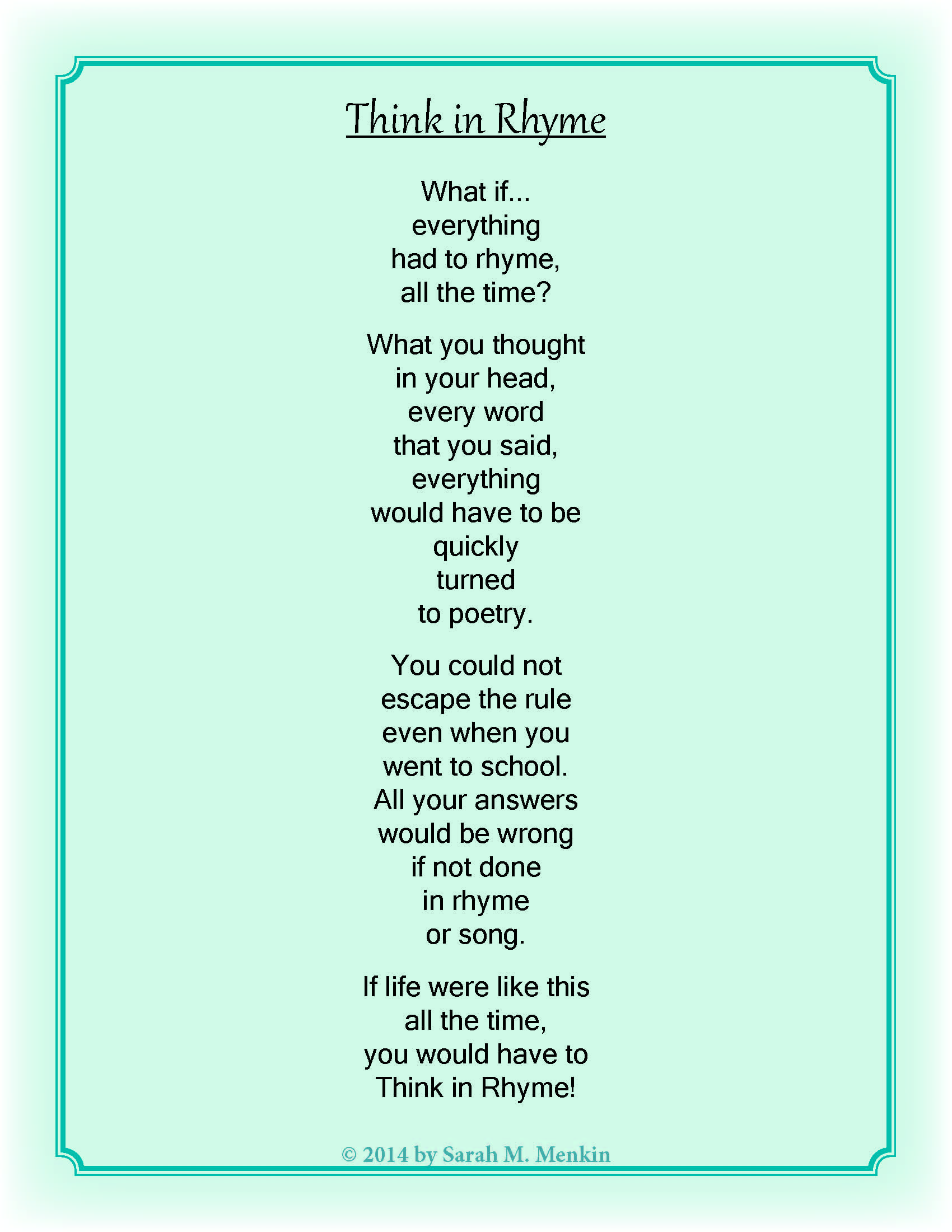 July 1, 2020... Thank you poem for all who are kind to us through the year...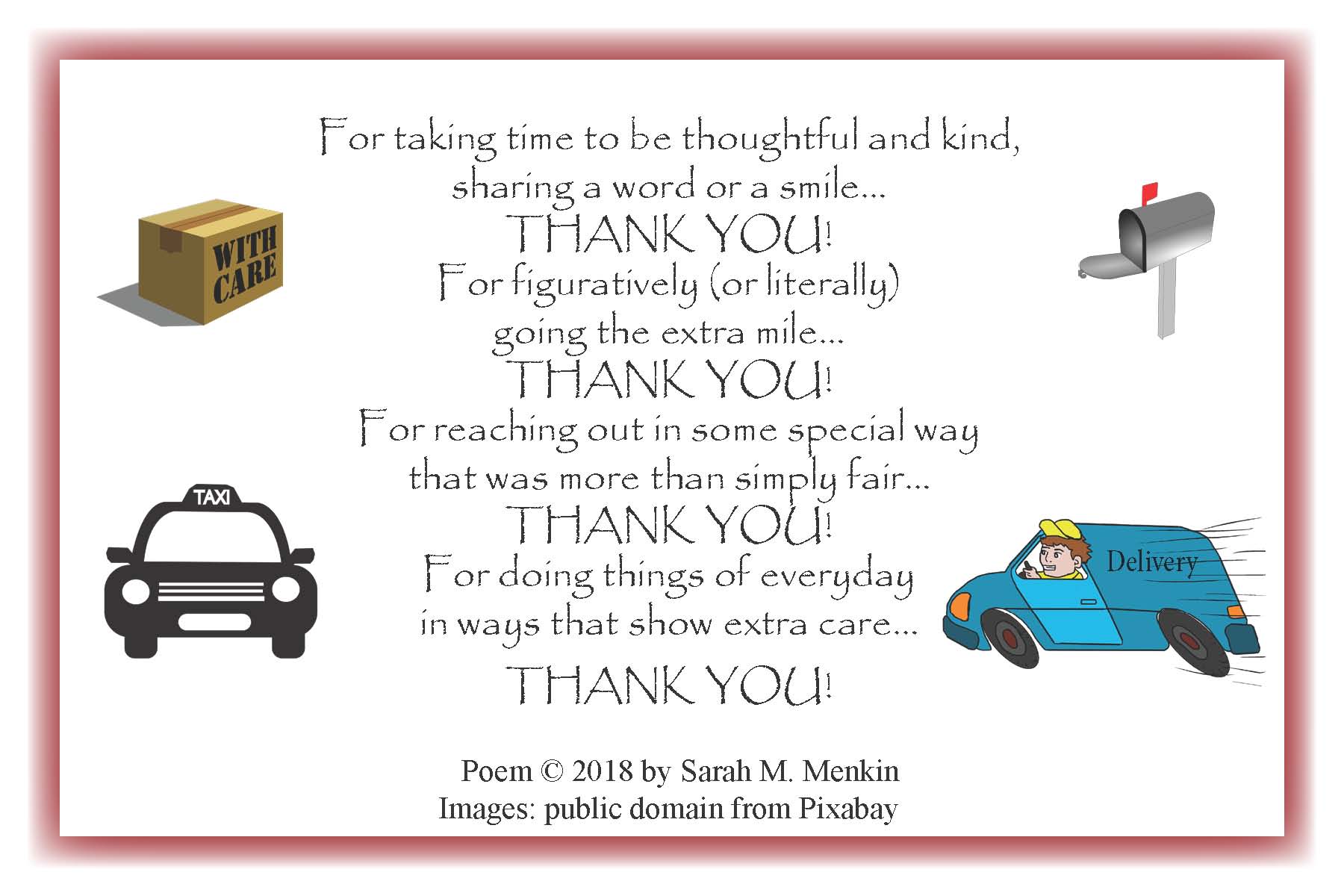 May 18, 2020 ...another poem from my archives - I wrote this quite a few years ago... enjoy!
Where Marsh and Roadway Meet

© by Sarah M. Menkin
At home in soggy marshes,
where nature's sounds are heard,
Just off the busy roadway
where every sense is blurred,
A family of wood ducks
grows vigorous and strong.
Mama leads and balls of fluff
follow in peace along.
Side by side, yet worlds apart,
Can marsh and roadway meet?
Yes, when Mama duck decides
to waddle 'cross the street.
Two cars stop in quiet haste
to watch the ducklings walk.
In the silence of the scene,
It seems a shame to talk.
March 25, 2020 - A re-run that seems suited to our current times...Sarah M.
Like Tiny Sparrow Falling
Though the night be dark and dreary,
And there's naught that's warm and cheery,
And the path seems full of thorns and treacherous mire,
Not in our own strength abiding,
But in faith, in God confiding,
We in trust can all our cares to Him retire.
We may grope to know the reason
We are going through this season,
Why to us this burden heavy comes to bear,
But, like tiny sparrow falling,
When our soul to God is calling,
How much He shows to us His loving care.

February 5, 2020 - Another re-run of a poem I wrote a long time ago...enjoy! Sarah M.
Snowy Day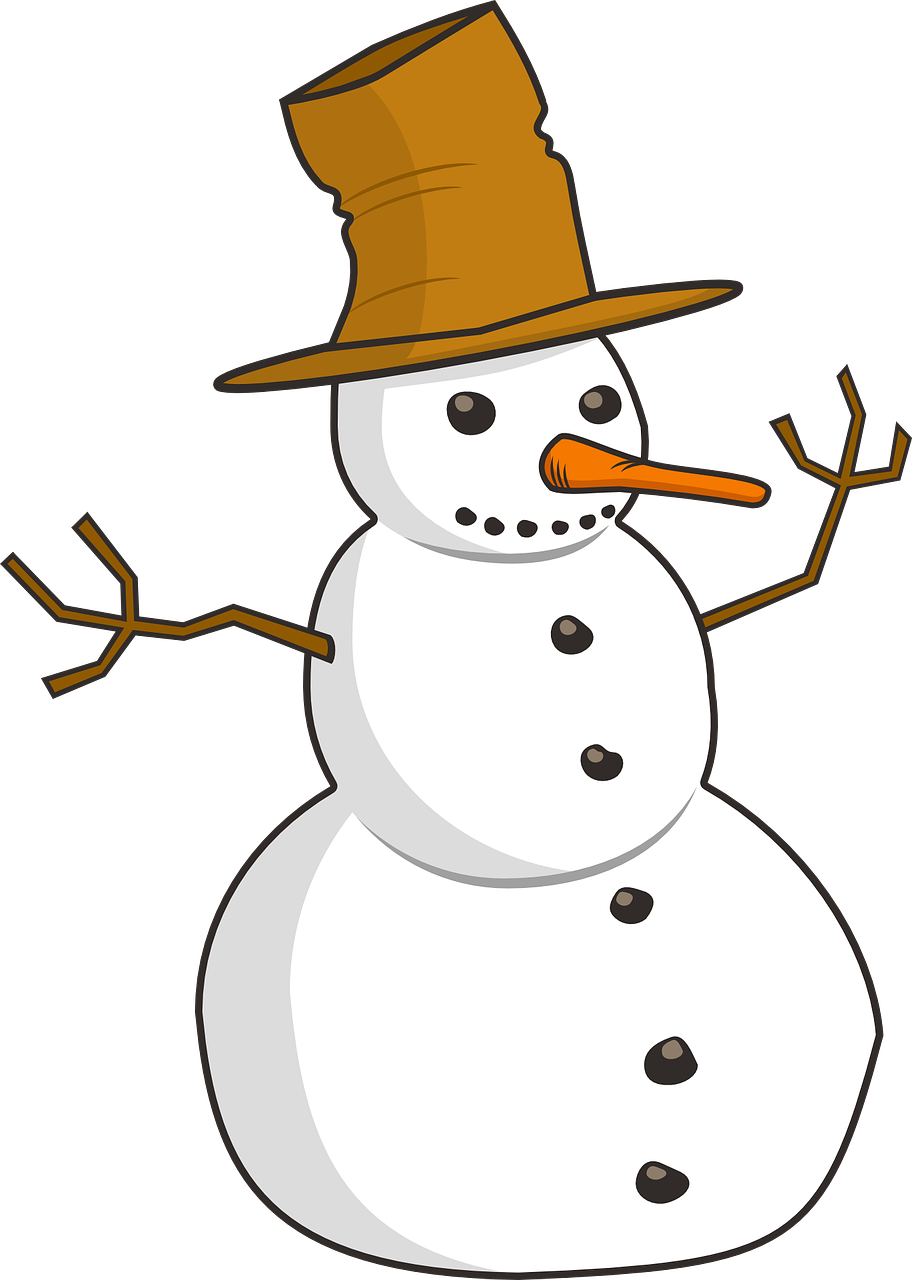 Mittens and wooly hat
to keep out the snow,
Pull on your cozy boots...
Now out we go!
Roll up a ball of snow.
Now do another one.
Build a big snowman
to stand in the winter sun!
January 6, 2020 - A rerun of a poem from several years ago...enjoy winter -- or summer, depending on where you live!
Summer or Winter? Pen-pals in Tanzania and Maine
It's summertime in Tanzania.
It's winter here in Maine.
They have something they call "Vuli,"
We just call it "rain."
Maine has black bears; they have lions,
We've never heard one roar
Or watched a Kilombero weaver
On a river shore.
If they would come to Maine in winter,
Our friends could skate on ice,
And then warm up with some hot chocolate.
Wouldn't that be nice!
If we could see the Serengeti,
We'd watch the fast gazelles,
And maybe help the people working,
Digging out new wells.
Here in Maine, it is late morning,
There it's almost night.
Sometime, perhaps, we'll get together,
But, for now, let's write.
November 27, 2019 - I just wrote this new poem of Thanksgiving...enjoy :) Sarah M.
A Hymn of Thankful Praise
For all your blessings every day,
For all the grace you give,
For wisdom granted when we pray,
For all we need to live...
For strength sufficient for each trial,
Forgiveness when we fall,
For helping us to listen well,
For hearing when we call...
For all you give to us, O Lord,
This hymn of thanks we raise,
Lifting our hearts in gratitude
We offer thankful praise.
 

NOTE: Unless otherwise noted, all poems are written by me (Sarah M. Menkin) and are copyrighted.

If you wish to make copies of this page for personal use or for giving out to a few (up to about 20) friends, please go ahead - no need to ask me (though I would enjoy knowing where the poems are being sent and enjoyed!)

Please feel free to send a link to this page to everybody on your email list! The more, the merrier...

For other uses, please check with me first.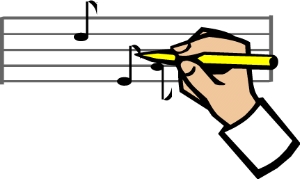 We have paused printing at this time, due to medical issues.